---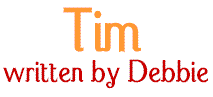 Some of you who will be at the wedding have never had the pleasure of meeting Tim. Also, some of you who know Tim might not know his colorful and interesting past. So, in the interest of helping you get to know Tim I've written up a little bio. I hope you like it.
Tim Vasil was born and raised in Berwyn IL, a near west suburb of Chicago. I wasn't around when he was a little boy but I know that in school he liked English better than Math and out of school he liked to ride his bike with his buddies Craig and Mark. Even when Tim was very young he was into music. He used to save his allowance to buy singles at the music store.

Tim got along well with his big sister Eileen, especially when they went on family vacations together. Tim and his family enjoyed many family trips, mostly where they drove around the country. Actually, Tim didn't like the car part, he was known on more than one occasion to say, "Are we there yet?". But he liked seeing different places and being friends with his sister. Tim continues to impress his family by his amazing memory of details of those family trips. Tim does have an uncanny memory.
Tim's parents still live in the house he grew up in. Tim's bedroom is on the second floor and has sloped ceilings. Tim believes that he's "only" 6'4" because he grew to the size of his bedroom. It's like the goldfish who can only grow to the size of his bowl, that's what Tim says.

Tim was a very tall thin boy, which is amazing considering one of his favorite pastimes was riding to Cock Robin with his buddies for milkshakes (Tim keeps promising to take me there, too). When Tim got a little older he always batted cleanup on spaghetti nights. By this time in his life his passion for collecting music was increasing. His collection was mostly vinyl at this point.
In high school Tim continued to favor English over Math, and he became the editor of the school newspaper. He, along with his buddy Mark, wondered why the shy bookish types weren't getting the girls (see Tim and Mark now, obviously these girls were fools!) His first part-time job was at Zayre's, a very sloppy department store. After Zayre's he worked at the IGT Pilot Plant, and after that he worked at the Brookfield Zoo. He had quite a tan that summer! Tim's music collection continued to grow, and he was starting to make more frequent trips to record stores.

Tim went away to college at Illinois Wesleyan University in Bloomington IL. He hung out with a great group of people, most of whom I've had the pleasure to meet. While at school he managed the school's radio station and wrote music reviews. His music collection consisted mostly of cassettes by now. He graduated in 1989 with a degree in English.
After graduation, Tim got a job as the manager of a Coconut's music store where he got to be good friends with his buddy Pete. He worked there for a few months then he started at McDermott, Will, and Emery, a large Chicago law firm. Shortly after getting that job that he bought himself a CD player as a reward. His collection had finally hit the CD era (and it hasn't stopped since, you should see our music room). He worked in the library, but eventually made the move into technology and is now the firm's Webmaster. Do the math, he's been there over 11 years! He still is friends with the guys from the library, particularly Mikey who enjoys the benefit of our Direct TV NFL Sunday Ticket (we like when he comes over).
Tim now lives with his very lucky fiancée (c'est moi!) on the North side of Chicago. Every day we walk to the Rockwell El stop together, then take the brown line to Washington and Wells. We get our breakfast together then he walks me to my office and gives me a kiss. Some days we get to have lunch together, but mostly I don't see him until after work when he picks me up and we walk back to the El together to go home. On the nights I have class he has dinner with me then walks me to class. He's always very sweet and he's always a gentleman (thank you Mary and Dave, you did a wonderful job with Tim!) We both look forward to the weekends where we can spend more time together. On the occasion when he goes out with his friends, he always tells me how much he missed me when he gets home. He's the most wonderful man in the world and I'm the luckiest girl alive.
---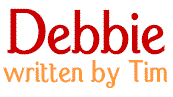 It is my great honor to tell you a little about my beautiful fiancée, Debbie. I'll do my best to stay away from flowery prose and unabashed praise, but it'll be difficult.
Debbie was born in Jacksonville, Florida on June 21st- the first day of summer. The 21st was a Father's Day that year, so she was an extra special gift for her dad. Her brother Brian was a few weeks shy of his second birthday, so he didn't know all of what was going on. He'd soon find out that he had a little sister who was here to stay, and Debbie and Brian have been close ever since.

The growing family was soon on the move- and unfortunately, not all in the same direction. Dad went to Vietnam while Mom, Brian and Debbie moved to Brooklyn to stay with Debbie's paternal grandparents. After a year, the family was reunited and they packed their bags once again- this time for New Jersey.
I recently had the privilege of seeing the little town of Newton, NJ where Deb and Brian spent much of their formative years, and it seems like a real nice town to grow up in- lots of thick, green grass and tall trees. It appears (from the photos I've seen) that Debbie was starting to become quite a little dancer!
| | |
| --- | --- |
| | Nothing could have possibly prepared Debbie and Brian for what would occur in the winter of 1978- Ubs Ubs. Cathy Awsom Ruth Heyderman joined the world, and Brian and Debbie quickly became attached to their little sister, scooting her around the house in a laundry basket or being witness to the Great Marshmallow Caper, in which the Heyderman family learned where NOT to store a bag of marshmallows with a toddler in the house. Debbie found another joy about this time- Chik-Fil-A! That's a fast food chicken place for those of you from Chicago who've never heard of it. Every time the Heyderman family went to the mall, Debbie would plead for them to stop at Chik-Fil-A for lunch. She was always sure to keep a little extra for herself so she could get the cool little leftover box with a handle to carry around with her the rest of the day. How cute is that? |
Debbie's life moved right along into high school, and she and Brian started their first jobs, working in the same nursing home. Change would be in the air again soon, as the family would move again. This time, halfway across the country. Quad Cities, USA!

Debbie was now an Iowan, and started attending Bettendorf High School. She started to make friends at her new school, including one young man, Travis Manning, who she got along with very well. The two of them enjoyed hanging out, scraping together their change for trips to Long John Silver's. Finances wouldn't be too much of a problem, as Debbie would soon be gainfully employed- at a local Chik-Fil-A!
As tempting as it would've been to stay at her childhood dream job, Debbie saw the need for higher education and was off to the University of Illinois in Champaign. She made friends quickly but wasn't entirely happy with the social situation and even considered a transfer to Rutgers where she had friends from when she lived in New Jersey. That would all change when she met Gladys Morales, with whom she gradually developed a very strong bond. The two had a lot of fun together, but Debbie stayed on the right track with her studying, gettin her degree in Finance in four years and having a job ready to go before graduation- she would be an auditor at First Chicago.

Debbie enjoyed her first "real" job and had an apartment in the suburbs. A few other apartments followed and her job took her all around the Chicago area. She enjoyed living there a lot, but her job wasn't what she wanted to do in the long term. After much thought, she headed west- to the suburbs of San Francisco!
Debbie started working for an investment software firm in Silicon Valley by the name of Iverson Financial Systems. Again, finding friends was no problem for her- although her close friends all turned out to be transplanted East Coasters! Her little sister Cathy was able to join her one summer while she was in college and the two had a great time. Maybe Cathy's extended visit made Debbie a little homesick, as she soon decided to come back to Chicago.
Before she moved back, she landed a job at the Citadel Investment Group testing software. She found a place in the heart of the city to live and was enjoying being back in the Midwest. Finding a strong aptitude and liking for her work with computers, Debbie started going to DePaul University for her Masters in Computer Science, with the goal of become a software developer. Soon, her life was to change again (see the dating story below).
That brings you up to date on what she's done, but I want to tell you who Debbie is. She's an extremely intelligent woman who also happens to be very beautiful- a rare and wonderful combination. She has an excellent sense of humor and loves to have fun, but has a very warm and serious side as well. She's an honest person and a loyal friend and expects to be treated the same way by those who call her friend. She's very devoted to her family, friends and work but never lets any of them get out of sync. She's an excellent cook and has a keen eye for decorating. She's really a wonderful human being, as many of you already know. Those of you don't know Debbie will hopefully find out for yourselves soon.

Sometimes (including right now, as I write this), I can't believe how lucky I am to have her in my life. She's everything I've ever hoped for in a friend, girlfriend and (soon) wife, and so much more. With her, she allows me to be who I am but gives me the strength and willpower to be more than I ever thought I could be. And together, I feel like we can do whatever we set our hearts on. I love her very, very much, and I don't feel that I can tell her that enough.
---
Tim and I started dating in March of 2000. However, we've actually known each other for quite a long time. I met Tim back around 1994 when my college girlfriend Beth started dating him. As I recall, the actual dating didn't last that long, but they remained good friends. So I got to know Tim and thought he was a really nice guy. Beth and I even went on a double-date to a wedding of two college friends of Tim's. I went as Tim's friend's Pete date! Tim and I had lunch a couple of times since we both worked downtown, but we didn't date back then.
In early 1996 I moved to California, and I moved back in late 1998. In the fall of 1999 I was working at my current job and going to school at night. I was on the el train going home and saw someone on the train who looked a little familiar. I didn't place who he was though, and just assumed he wasn't anyone I knew. So that night I got an email from Beth saying she talked to Tim and he said he thought he saw me on the train that day. I thought, "Oh! THAT'S who that was!" I emailed Beth back and copied Tim saying how it was cool that we ran into each other and that he should email me. Well, he never emailed me.
| | |
| --- | --- |
| However, it wasn't too much longer until fate struck again, I went out to lunch with my friend Mike (a college buddy who I now work with too). We ran into Tim at the Burger King. I gave Tim flack for never emailing me, then he promised he would email me. And this time he did! We started having the occasional lunch together. I liked Tim but I was dating someone else at the time so I didn't want it to go any further. After I broke up with my boyfriend Tim invited me to dinner and we had our first real date. I still remember that it was that night I told Tim I had a boyfriend, he looked sad, then I immediately told Tim I had just broken up with him, and Tim perked right up. We went out for drinks that night, then dinner, then Tim walked me home (always the gentleman) and we had our first kiss. We've been together ever since. | |