American Idol Update- Finals- Episode Eight (Five Alive)
Comma, Comma, Down, Doobie Doo, Down Down: Cathy in Purple, Deb in Red, Tim in Blue
Week Twelve: Episode One: Five Alive
Kimberly L needs a better bra! I'm just sayin'.
I agree! She was bouncy-bouncy when she came out. I thought I was the only one who noticed.
What are you two talking about? I thought she looked just fine! :)
OK, I want to share something funny with both of you. It's one of my greatest pleasures every week in putting this together. So, I get the email from Cathy and the first thing I do is cut all the text out of the email and paste it into an empty Word document. Then I save it. Word always tries to name the document based on the first line in the text, so this week when I first went to save my document it was called "Kimberly L needs a better bra.doc". And it's this funny EVERY week. Some past weeks:
"First of all, Carmen is wearing a stupid outfit.doc"
"Olivia Newton-John.doc"
"OK, before the show starts I'll say this.doc"
I just had to share that with you.
| | |
| --- | --- |
| | That's good, I like that. Cathy, next week start off your update with "What's up?" |
Neil Sedaka. You were right. I have a feeling he'll be dorky. I don't know why. Also, when you said that name, I thought of a totally diff guy. Is there another Neil Sedaka, or another Sedaka at least? I don't know, but none of these songs seem singable for this competition. I hope you're right about the 2 songs this week. Also, tomorrow is a 1 hr show with interviews.

Nope, only Sedaka we'll ever know. They're struggling with this guest host thing- it's not always a good idea...

He was a dork. Some of his comments were just plain weird. Well they can't all be Gladys Knight or Lionel Richie.
Ruben (Ain't to proud to beg) (10+) - I was expecting a condom over his right eye. This was much classier than the "Ain't to proud to beg" that I was thinking of. I thought it was wonderful, however, I think he could've done more with it. I expect more from him since last week.

He looks like a moon man in that outfit. I thought he sang well. I just have to say, he reminds me a lot of Cathy b/c after he's done singing he just has a blank stare and sometimes is looking off at nothing. Very Cathy-like. Simon mentioned something about this last night. He didn't use Cathy's name but I'm sure the audience knew what he meant.

Deb and I were having fun watching his blank expressions while they were all talking about him. Much like Cathy. The performance was good, I wan't overwhelmed as I've come to expect so much from him. It was very good though, it'll be hard for folks to follow him.
Trenyce (Proud Mary) (10-) - Wow, that was great! Probably her best so far. Ok, definately her best. It's a 10, but a 10 minus because no one is as good as Ruben!!!! Just for the record!

It took a lot of guts to do that song, and she did a great job with it. It was also nice to see her do something other than a ballad. Very fun and nice energy. Very good!

I wasn't as nuts about it- she was good, but I don't thing there was anything exceptional about it. She managed to do well after Ruben, not the easiest thing to do. I guess you can say...SHE POOED IT OFF!
Josh (Then you can tell me goodbye) (6) - I like his voice just fine, but it's just not this competition. I don't get excited over it like Ruben. Ya know? I gave it a low score because i need to start being critical. He's definately next to go. I disagree about the order I gave last week.

There wasn't a single 60's song he could sing that someone might actually know? How dumb. He sounded good but he's not nearly as good as anyone else. He's got to go.

Nothing like hillbillyin' up a doo wop song. He's really dropping the level of his performances while the others are getting better (especially Kimberly). He's gone tonight, I HOPE.
Kimberly (I heard it through the grapevine) (8) - That was cute!! She started off kinda bad so I lowered it from a 9 to 8. But I love the way she changed the song. Girlfriend can't bounce too much though because she needs a BRA!!! K, it took me for-e-ver to figure out what he meant by ear delicious. And now I'm a little creeped out because it sounds like a creepy term. He's old!

Nice updated version of the song. (Actually, Tim explained to me that Kimberley sang the Gladys Knight version of the song, who knew?) She looked great tonight too.

Gladys Knight had a hit with this version in the early sixties and the arrangement sounded like this- very uptempo. Marvin Gaye slowed it down and had a HUGE hit with it (I've heard his version called the best single of all time). She did great with this, looked good, too. She didn't need a bra, either. :)
Clay (Build me up buttercup) (5) - Could have been a million times better from him. Really average. Cathy-oke is more exciting than that! Gimme a break Clay. I actaully gave him a 7 and then lowered it to a 5 because he's capable of so much more. Ooh, it sounds like he's gotta contract!

He tried to move around a little and he did a very good job with that. Nice performance!

I liked this- I was surprised Cathy didn't. He overannunciates a little, but he does good with songs that really require you to belt it out, whether they're fast or slow.
WOO HOO!! Second songs are gonna rock! I'm hoping they were all holding out for the big stuff! Did you see how excited Neil just got when they said his name? I just totally cracked up.
I think Neil is happy that someone is paying attention to him. BTW, did you notice how much he looks like a CEO?

He looks creepy when he smiles.
Ruben (Breaking up is hard to do) (10+) - Yeah, I wanna hear this version of the song recorded! I thought that was awsom! I should start calling him A1! That was so good. And did you see Neils face when he heard it at the beginning. He knows how awsom Ruben is!!!!! That's my boyfriend. He just doesn't know it yet!

DAMN! I just love him! That was so good! I totally want to get that on CD.

Guess who just downloaded it? It'll be on CD by week's end...

I giggle uncontrolably anytime Ruben and his bro are together! They're SO funny!

I was hoping they's squish Ryan again, that was hi-larious.

Squished, in the middo...
Trenyce (Love will keep us together) (8) - I freaking love this song! I'm so happy she sang it. I just downloaded it, actaully. What a kawinkydink. She sang it averagely though.

Very nice. Fun. I liked her tonight a lot and I haven't liked her in a while. I hope it's enough to keep her from getting voted off b/c if you compare her and Josh, the 2 most likely to get voted off, she totally blew him away.

She was really good here, and looked great. Josh is by far the worst here. We'll see how the "patriots" vote tonight. His whole marine thing might keep him alive.
Josh (Bad Blood) (8) - Love this song, seriously! I'm gonna sing the background singer part!!! Much better than he's been in weeks, and a totally awsom pick! I agree with Neil that he needs to relax.

OK – not nuts about it. I think I've seen enough of Josh. He didn't look like he was having fun.

I thought this hurt to watch. Was not impressed at all, although I think this song is hard to do in this contest, having to do it with the karaoke backing....
Kimberly (Where the boys are) (9) - Cute pick. I am starting to like her more and more. That was just a totally original pick. It started off an 8 but I had to change it to a 9 because I like how she started off slow and sweet and then totally picked it up but didn't go overboard.

What's with the split screen?!?! That was very pretty. Very nice. I like it when she picks it up b/c she sounds great and doesn't overdo it.

A very good choice for her, very pretty- she really showed some versitility tonight. (I couldn't help but use this crazy picture).
Clay (Solitaire) (4) - I don't know this song, but it really is about the game solitaire. Who wouldn't like a song like that?!? JK! Eh, boring. Kind of a gay song too. Ok, I must not have seen the same performance as the judges. I don't get it. Whateva.
Cathy, just because you disagree with the judges is no reason to resort to violence...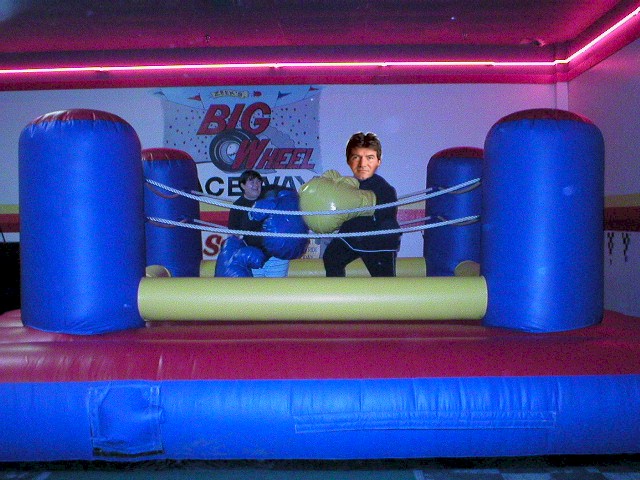 I think that was a very strong, good, and honest performance. I think it was gutsy. He really raised his game tonight. It's funny b/c 2 weeks ago Cathy had him as a 10 and this week his average score is a 4.5. Now, I can see that this wasn't your favorite week of Clay but you gave Josh a 7 average. You think Josh did 2.5 points higher than Clay? You're crazy!

Ypsilanti, now that's crazy. I agree, Clay was awsom here. It was a pretty dramatic song and he gave a very approporiate performance of it. Old Neil was just about in tears when he heard that version, and I can't think of a better compliment from a song's writer than that reaction (unless its an upbeat song, then tears would be bad).
Wow, that was a good show. TWO Ruben performances. He's my boyfriend ya know!
Yeah yeah, he just doesn't know it yet.
Yes, Cathy, when WILL Ruben know this? Imagine what long car trips would be like in that new family...
Ok, bottom 3: Clay, Josh, Trenyce
Josh will be voted off. Also, I can't remember last year. Did they keep doing the bottom three this late into the competition? It only leaves 2 people left. I guess we'll see.
Bottom 3 are Clay, Josh, and Trenyce as Cathy said. Josh is gone. If Josh isn't voted off tonight there is no justice. He was so much worse than everyone else. If I recall, last year they did a bottom 3 when there were 5 left but did only a bottom 2 when there were 4 left. However, I could be remembering wrong and/or they could change that this year and only do a bottom 2. BTW, what the hell are they going to do for a whole hour tonight! I hope it's actually a good show and not just a lot of filler. We'll see
I sure hope Josh is gone tonight. Anyone else it will be too soon.